Painting Lotus Flower

Howard's Asian Red Ribbon Bird painting at the Lung Hsiang Art Exhibition

Gallery 21 – San Diego, CA Exhibit Poster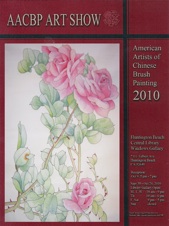 Chinese brush painting is something that you do and an artist is something that you are...
My journey into the art of Chinese Brush Painting began in 2004 (approximately 15 years ago) in California on what then seemed like a sudden fancy. I enrolled in my first Chinese brush painting class and was challenged by the immediacy of an animal-haired brush, ink stick, ink stone and Xuan paper (pronounced Shu-en). I had the exceptional fortune to learn and be mentored by Master Shantien Tom Chow who continues to guide me and enhance my techniques. I am motivated to translate more than simply an aesthetic quality of brush work and hope that my feelings connect to the natural world through the depths of color and emotions. It was love at first stroke. Since then, I have found there is no end to my learning as I know where I can improve my flower painting. As my friend and fellow artist, Sibylla from Berlin, Germany said "We still have a lot to learn!"
Today, I specialize in the Gong-bi (fine line) style. I seek to meticulously capture the delicacy and precision of details in my flower and bird paintings. With a skilled hand, my emphasis is on excellent control and the proper use of very small brush strokes. This refined style of painting requires my total concentration and nearly a full reservoir of energy. It is often through my painting and poetry where I find enlightenment and a way to embrace balance and harmony in my life.
Currently, I am a Connecticut based artist, poet, and writer working from my home-based Soaring Dragon Studio. I composed the Introduction to the 2018 book, The Four Gentlemen – The Art of Chinese Brush Painting and recently the Introduction to Touch of the Brush – Selected Works of Calligraphy and Painting to be published in 2019. I have authored over three dozen national and international articles about Chinese art and culture.
My Chinese brush paintings have been shown as part of the 2018 Brush with Nature Exhibit at the Hammond Museum in North Salem, Richter Art Association Show, Danbury, CT and the Art of Experience Exhibition in Southbury, CT.
© 2019 Howard Meyer. All Rights Reserved. All artwork and images on these pages are copyrighted and may not be used without written permission